In short, it's a collective virtual shared space.
A few of the beginnings of Metaverse can be seen in Neal Stephenson's novel "Snow Crash" from 1992 and in Ernest Cline's Movie "Ready Player One".
The metaverse is a perfect fusion of physical, augmented, and virtual reality. The Metaverse is a public virtual world that may be accessed via the internet. It creates a "virtual world" experience by simulating human emotions and gestures.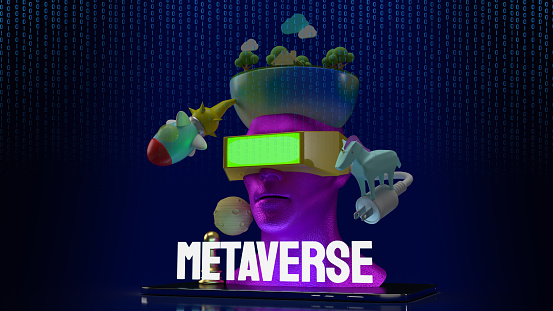 The metaverse encompasses the entire social and economic structure that exists in both the actual and virtual worlds. Avatars, content, and goods may all travel around freely. It's a living, breathing experience that never pauses or finishes like a game.
The Metaverse is a virtual reality in which individuals can communicate and transact with each other and with digital 3D items.
It relates to collaborative virtual worlds where currency can be used to buy and sell land, buildings, avatars, and even identities.
Individuals can walk around with their friends, visit places, buy things, and attend events in such environments.
Musicians, for example, can perform virtual gigs, and fashion companies can create virtual apparel for people's avatars to wear in metaverse surroundings.
It's worth noting that Roblox, a popular children's game, touts itself as a metaverse corporation.
For better understanding, here's an example!
You could visit a simulated cafe and e-meet with your friends there, or you could travel to a virtual art gallery to see a digital art display.
Metaverses, on the other hand, aren't just for gamers. Some metaverses allow you to meet up, collaborate, shop for goods and services, and participate in activities like live events, live concerts, among others.
Which Companies Are Investing in Metaverse?
Many technology companies, including Microsoft, Meta, Roblox, and Epic Games, have been making this a reality.
But how many have they truly achieved thus far?
The early Metaverse experience may be found in gaming, as players create their own distinct worlds. Consider what Epic Games accomplished with Fortnite. They organized complete concerts for people to participate in and connect with.
The metaverse has no bounds. Allowing individuals to imagine endless spaces that aren't constrained by geography.
Meta and Microsoft, on either hand, are taking a slightly different strategy.
Horizon Workroom, a new method for office workers to communicate using virtual reality and headsets, was recently unveiled by Facebook. There are Avatars all wandering about in a virtual office area in real-time so that you can hold VR meetings with individuals.
On the other hand, Microsoft plans to completely revolutionize the way business and operations are conducted by creating a digital twin of the real world with which we may engage via mixed reality.
Roblox, a popular game, calls itself a metaverse corporation. Besides Epic games, Fortnite is also regarded as an integral part of the Metaverse.
Over time, The Metaverse has progressed beyond simply a gaming-related experience. Games like Unreal Engine and Fortnite have demonstrated how beneficial this network can be, and it is for this reason, a company like Facebook is ready to put so much money into it.