1. Sun Temple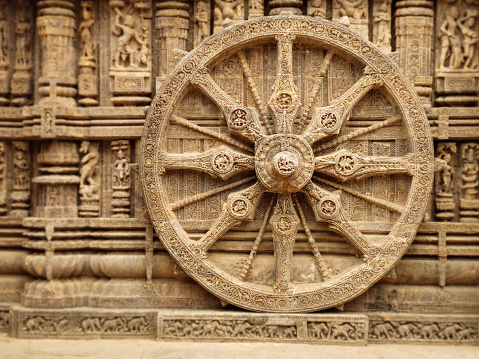 Here's the key bit of information about the Konark Sun Temple which is a UNESCO World Heritage site. The Konark or Konarak Sun temple is dedicated to the Hindu sun god Surya, and, conceived as a giant stone chariot with 12 wheels, it is the most famous of the few sun temples built in India. It is located about 35 km northeast of the city of Puri on the coastline in the state of Odisha (earlier Orissa). Konark is a coastal town which means that the best time to visit it during the winters.
  2. Ajanta Caves
Ajanta Caves, Buddhist rock-cut cave temples and monasteries, located near Ajanta village, north-central Maharashtra state, western India, that are celebrated for their wall paintings.
3. Ellora Caves
Ellora Caves, a series of 34 magnificent rock-cut temples in northwest-central Maharashtra state, western India. They are located near the village of Ellora, 19 miles (30 km) northwest of Aurangabad and 50 miles (80 km) southwest of the Ajanta Caves.
Ellora served as a group of monasteries (viharas) and temples (caityas); some of the caves include sleeping cells that were carved for itinerant monks.
4. Nanda Devi & Valley of Flowers National Park
Nestled high in West Himalaya, India's Valley of Flowers National Park is renowned for its meadows of endemic alpine flowers and outstanding natural beauty. This richly diverse area is also home to rare and endangered animals
5. Khajuraho Group of Monument
Located in Chattarpur district of Madhya Pradesh, Khajuraho is the pride of Indian architectural grandeur. Khajuraho attracts attention not for its presiding deities or religious importance, but rather for the incredible carvings and designs depicted on the temple walls.
6. Taj Mahal
The Taj Mahal is a mausoleum complex in Agra, western Uttar Pradesh state, northern India. The Taj Mahal is also one of the world's most iconic monuments, visited by millions of tourists each year. Every year tourists amounting to twice the total population of Agra visit the city for spotting Taj Mahal. To immortalize his love for his favorite wife, Mumtaz Mahal, the Mughal Emperor Shah Jahan built the most amazing mausoleum of all times. The main expression of this building is pure love.
7. Hill forts of Rajasthan
The North Western Indian State of Rajasthan has over one hundred fortifications on hills and mountainous terrain. Six Hill Forts of Rajasthan, spread across Rajasthan state in northern India, have been clustered as a series and designated UNESCO World Heritage Site. The serial site, situated in the state of Rajastahan, includes six majestic forts in Chittorgarh; Kumbhalgarh; Sawai Madhopur; Jhalawar; Jaipur, and Jaisalmer.
They consist of:
8. Mountain railways of India
India's three most visited scenic hill stations that attract both adventurers and leisure escapers are Darjeeling in north of West Bengal, Shimla in Himachal Pradesh and Ooty in Tamil Nadu. Although these hill stations can be easily accessed by road, yet the launch of mountain railways in India. the Darjeeling Himalayan Railway, Kalka-Shimla Railway and Nilgiri Mountain Railway started gaining in importance and were together declared as UNESCO World Heritage Site.
9. Rock shelters of Bhimbetka
The Bhimbetka Rock Shelter has the oldest-known rock art in India, as well as is one of the largest prehistoric complexes to be seen.
An archaeological treasure, Bhimbetka has around 243 rock shelters and have earned the honour of UNESCO World Heritage Site. The paintings found in the rock shelters here have a striking resemblance to the ones discovered in Kakadu National Park in Australia; to the cave paintings of Bushmen in Kalahari Desert and Upper Palaeolithic Lascaux cave paintings in France.