NASA and General Motors have joined forces to develop a new version of NASA's humanoid robot astronaut called Robonaut 2. Robonaut 2 or R2, was first demonstrated to the public on 4th February 2010. The aim of the Robonaut project is to investigate technologies that can be used in space exploration to help and improve safety for astronauts.
Robonaut-2 is a humanoid robot comprised of a torso, two dexterous manipulating arms, and a head fitted with a vision system. Each arm is capable of lifting 20lb weights, which can move away from the robot while maintaining balance. Robonaut2 surpasses previous dexterous humanoid robots in strength, yet it is safe enough to work side-by-side with humans. It is able to lift, not just hold, this 20-pound weight (about four times heavier than what other dexterous robots can handle) both near and away from its body.
The idea of using dexterous, human-like robots capable of using their hands to do intricate work is not new to the aerospace industry. The original Robonaut, a humanoid robot designed for space travel, was built by the software, robotics, and simulation division at Johnson in a collaborative effort with the Defence Advanced Research Project Agency 10 years ago.
During the past decade, NASA gained significant expertise in building robotic technologies for space applications. These capabilities will help NASA launch a bold new era of space exploration.
How much does Robonaut 2 cost?

NASA's $2.5 million Robonaut 2 is the first humanoid ever to fly in space. The robot currently lives on the International Space Station, where astronauts wll test its ability to help with complex tasks both inside and outside the orbiting laboratory.
What does the Robonaut 2 do?

Infrared radiation allows Robonaut 2 to sense how far away other objects are from it. The robot can move its head left and right, up and down, in order to see around itself. Robonaut 2 can work safely alongside people thanks to "force sensors" that give it a sense of touch
Who built Robonaut?

The first generation Robonaut was designed by the Robot Systems Technology Branch at NASA's Johnson Space Center in a collaborative effort with DARPA. The Robonaut project seeks to develop and demonstrate a robotic system that can function as an EVA astronaut equivalent.

What sensors does Robonaut have?

Robonaut's broad mix of sensors includes thermal, position, tactile, force, and torque instrumentation, with over 150 sensors per arm. The control system for Robonaut includes an onboard, real-time CPU with miniature data acquisition and power management in a small, environmentally hardened body.
Updates on R2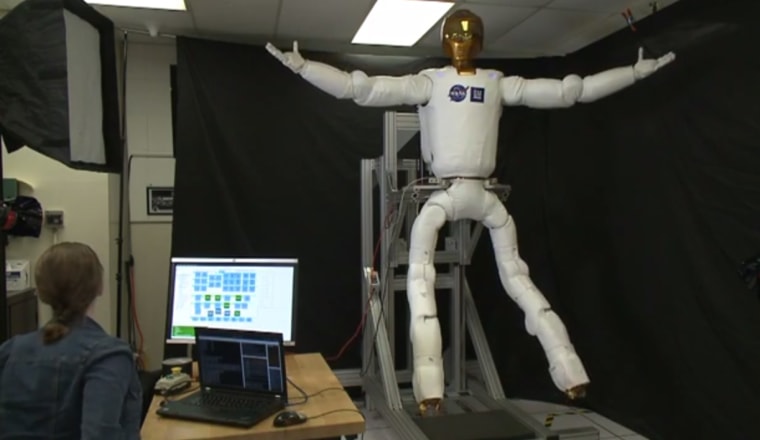 Recently, the original upper body humanoid robot was upgraded by the addition of two climbing robotic legs, more capable processors, and new sensors. While Robonaut 2 has been working through checkout exercises on orbit following the upgrade, technology development on the ground has continued to advance.
The Robonaut team plans to perform a variety of mobility and motion-planning experiments using the robot's legs, which can grab handrails on the ISS.